Welcome to the home of Elliott's Bull Babies, since 1994, I have taken great pride and care in the health and breeding of Dams, Sires and precious puppies.
The grandparents and parents have great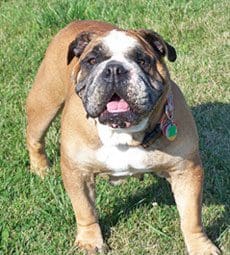 bloodlines, and our Dams can be free whelpers.  All of our bulldogs are American Kennel Club (AKC) registered.  All of our sires are DNA'd, health screened, and micro chipped. All of our puppies are social, hand raised with friendship, and are a part of our family.  They have very lovable temperaments, are very laid back, and are great with people of all ages from small children to adults.
We do not breed closely related bloodlines.  This is best for pets, breeding health and quality.  References are available. We have over 200 satisfied customers.
We offer a full registration on all of our puppies ensuring that they are breeding quality with a health check from our vet. All of our pups come to you with a seven day look over, AKC registration, and a one year guarantee.  The pups are paper/crate trained for easier housebreaking.  They are health checked by our veterinarian, first shots/bordetella. We are available for questions and information 24/7.
*** Puppies will be 8-10 weeks old or 10 pounds before they come to your home ***
We give you an information packet that will help you in raising your new family member.  We like to stay in contact with all of our bully children.  Please feel free to send E-mails, pictures, and attend our annual "Bull baby Reunion". (see below) 
We do not  sell our bullies or their offspring to pet stores, brokers or puppy mills. If you want one of our gorgeous puppies, we want you to come visit us and get to know us first.
With our co-op group, we can offer bullies to choose from all year round.  All the breedings are done under my supervision with my bloodlines.  We offer all different sizes and colors of bull dogs including; red, white, brindle, gray and multi-patched.  Our dogs range in size from 30-70 pounds.  We also have true Mini Bullies which weigh 50 pounds and under.
To learn more about us, click on the links pages of this website.  You may also contact us by phone at (937) 642-3384, or E-mail at: skelliott7@embarqmail.com